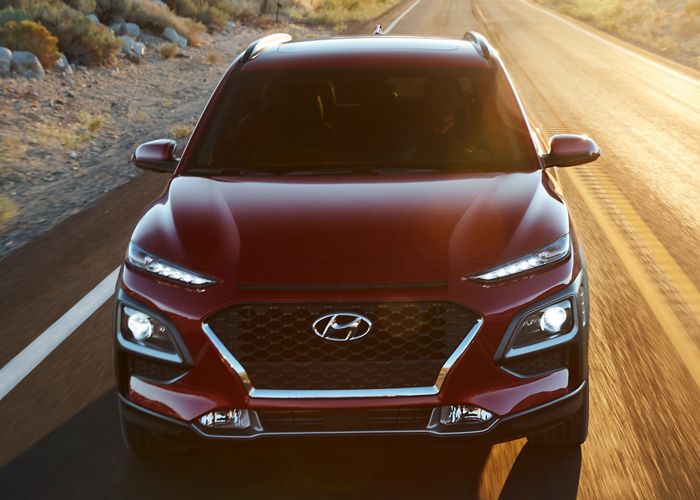 View Inventory
Contact Us
2020 Hyundai Kona at Winner Hyundai
The 2020 Kona comes off the assembly line as an all-new small SUV in Hyundai's arsenal of top tier motor vehicles. With the release of this new model, we see a great amount of modern technology integrated into the Kona's systems, enhancing overall performance and safety while on the road. The engines work well with the SUV's drive systems giving a smooth and responsive driving experience. Continue reading on to find out more about the 2020 Hyundai Kona.
Engine Performance
1.6-liter Turbocharged 4-Cylinder Engine
195 lb-ft of Torque
Seven-Speed Dual-Clutch Transmission
Safety Features
Lane Keep Assist
Blind-Spot Collision Warning
Automatic High bemas
Vehicle Design
Adaptive Cruise Control
LED Headlights
Blue Link Connected Car System
What are some of the key features included?
Hyundai is bringing in five different trim levels with the 2020 Kona establishing a strong selection of features and customization options. Coming with the stock Kona SE, you can expect to find a full infotainment system centered on a 7-inch touchscreen display that comes with multiple USB inputs, Bluetooth voice command capability, a rearview camera, standard system controls and smartphone integration with Apple CarPlay and Android Auto. We also see a number of great features coming standard with the Kona SE including keyless entry, climate control system, adjustable seating, tilt/telescoping steering wheel and more. Progressing through trim levels we see a lot of great features and upgrades work into the Kona, including a sunroof, wireless smartphone charging capability, upgraded sound system, adaptive cruise control, LED headlights, automatic temperature control, heated front seating, and Hyundai's Blue Link car system that allows for the integration of different devices and services conveniently into your infotainment system. Ask our dealers what trim level and optional packages would be best for you!
What powertrain options are available with the 2020 Kona?
Hyundai brings in two potential powertrains with the 2020 Kona offering enhanced performance and smooth operation. Coming standard with the first few trim levels of the Kona is a 2.0-liter Atkinson 4-cylinder engine that can produce 147 horsepower and 132 lb-ft of torque. Each Kona equipped with this powertrain comes paired with a six-speed automatic transmission that also allows you to manually shift to a desired gear. Upgrading to the Limited trim and above, you will find an upgraded 1.6-liter turbocharged 4-cylinder engine. This turbocharged powertrain works at more efficient rpm while offering enhanced output, being capable of producing up to 175 horsepower and 195 lb-ft of torque. This upgraded engine also comes paired with Hyundai's advanced seven-speed dual-clutch transmission that shifts between gears quickly and efficiently allowing for a more streamlined acceleration.
How does Hyundai integrate technology to enhance safety?
Hyundai put a lot of attention to incorporating advanced technology into enhancing the overall safety and reliability of the 2020 Kona. Most impressive is Hyundai's SmartSense safety technology that works with camera and real-time programs to establish driver-assist technologies including an adaptive cruise control system that detects the distance of neighboring cars and adjusts speeds accordingly, forward collision warning with automated braking, lane keep assist that gently adjusts steering to help stay in lane at highway speeds, and a rear/side blind-spot warning system with rear cross-traffic warning to detect encroaching vehicles on either side of the Kona. With these impressive features and more, the 2020 Kona has earned a 5-star safety rating from the official National Highway Traffic Safety Administration.
Final Thoughts on the 2020 Hyundai Kona
If you are looking for a modern compact SUV that offers great performance and comfort, look no further than the 2020 Hyundai Kona. This next-generation vehicle establishes itself as one of the best, with the efficient 4-cylinder powertrain options and advanced infotainment driver aids. If you are interested in checking out other similar vehicles, we conveniently provide reviews of other top Hyundai vehicles that you can check out below! If you have any questions, our dealers here at Winner Hyundai are always happy to help.
Apply for Financing
Schedule Service