Jumping into the ocean in the middle of winter may sound like a crazy idea, but what if we told you that it's all for a good cause. Would it still sound crazy then?
If not, then you need to sign up for the Lewes Polar Bear Plunge at Rehoboth Beach, DE, on February 5th. This annual event is getting the community together to benefit Special Olympics Delaware, and, of course, inviting everyone to jump into the icy cold Atlantic to support a great cause.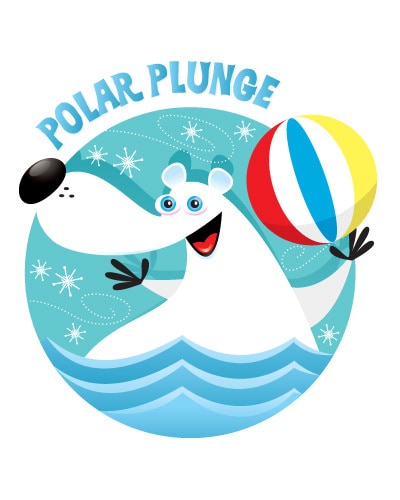 If you still think it's a crazy idea, here the top five reasons why you should take part in the Lewes Polar Bear Plunge in Rehoboth Beach.
Plunge for a Great Cause
Sure, jumping into the Atlantic on a morning in February may make you cold and uncomfortable, but it will be worth it to help a great cause like the Special Olympics of Delaware. When you take the plunge, you're showing your support for the thousands of hopeful and active Special Olympic athletes all over the Delaware area.
Plus, all funds raised to take the plunge will help Special Olympics Delaware provide more than 4,000 Special Olympics athletes with sports training programs, health and fitness opportunities, and the chance to participate in games and competitions.
You Don't Have to Jump in All the Way
The Lewes Polar Bear Plunge isn't a contest. With that said, you don't need put your entire body into the icy cold Atlantic to support Special Olympics Delaware. If you're really against diving in, you can simply get your feet and ankles wet.
The whole point of the Lewes Polar Bear Plunge is to benefit and show support for the Special Olympics of Delaware. So, it doesn't matter if you dive in head first or go ankle-deep. Just donate some money, come out, and enjoy the day with friends, family, and fellow plungers, or polar bears.
You Get Prizes for Taking the Plunge
No matter if you decide to take the plunge yourself or with a group, you will get prizes for taking the plunge. For example, every person that donates the minimum of $75 to participate in the plunge will receive an official Plunge hoodie sweatshirt.
In addition to the official Plunge hoodie sweatshirt, participants who donate more money will also receive:
$250 or more – embroidered beach towel

$500 or more – embroidered garment-dyed sweatshirt

$1,000 or more – embroidered L.L. Bean Super 200 fleece jacket or fleece vest

$2,000 or more – embroidered plush white robe

$5,000 or more – stained glass art designed by local artist, Dragonfly Leathrum

Admission to the After Party
Of course, your participation won't go unnoticed. After the big event, all participants of the Lewes Polar Bear Plunge are welcome to go to the Baycenter in Dewey Beach for the AprèsPlunge Party.
Polar Bear Plunge participants will receive free admission when they show their official event wristbands, and friends and family can join in on the fun as well for just $5. Here, you can dry off, enjoy some food, and grab a drink to celebrate your accomplishments. Plus, the party will also feature live music from 33 1/3.
You Can Do More Than Just Plunge
If you're still completely against taking the plunge for the Lewes Polar Bear Plunge, you should still come out and enjoy everything the event has to offer.
The Lewes Polar Bear Plunge just one of the many events of the Lewes Polar Bear Plunge Weekend Festival. From February 3rd to February 5th, you can participate in the Run to the Plunge 5K race, check out the ice sculpting competition, and enjoy food from tons of local vendors. Best of all, there will also be a Restaurant Chili Tasting Contest where you can indulge on tons of warm chili during this cold February weekend.
Take the Plunge!
Don't the winter chill deter you from supporting a good cause, and sign up to participate in the upcoming Lewes Polar Bear Plunge today!
For event updates, be sure to connect with Lewes Polar Bear Plunge on Facebook.