There's no better way to celebrate St. Patrick's Day than with beer and great food at an Irish pub. So, to help plan your holiday festivities, here are our picks for three of the best Irish pubs near Wilmington, DE, that you should check out for St. Patrick's Day.
Catherine Rooney's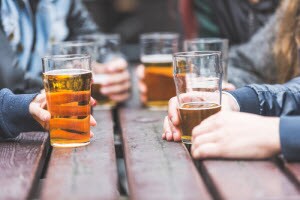 Named after two Irish women known for making all visitors feel special and welcome, Catherine Rooney's is the definition of a true Irish bar. It's warm, friendly, and all about making you feel at home. Plus, they offer tons of authentic Irish foods and an award-winning, perfectly poured Guinness to help you celebrate the holiday in true Irish fashion. And for a special holiday treat, Catherine Rooney's will be hosting a St. Patrick's Day celebration with live music from 12:00 PM to 1:00 AM.
What to eat: Catherine Rooney's is known for their Irish dishes, but their standout menu item is the Rooneys Irish Burger. Made with certified Angus beef, Irish cheddar cheese, sizzling rashers, lettuce, and tomatoes, and topped with their house-made black pepper aioli, this burger puts a great Irish twist on an old American favorite. Pair it with a Guinness, and you have a great St. Patrick's Day feast.
Check out Catherine Rooney's on Facebook for more details about their menu and St. Patrick's Day events.
Chelsea Tavern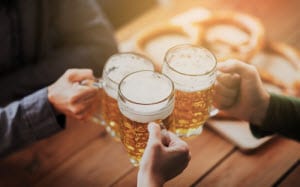 Chelsea Tavern is the go-to pub for a beer and a quick bite to eat. But when St. Patrick's Day rolls around, it turns into one of Wilmington's top spots for a holiday celebration. Located in downtown Wilmington, this gastro pub has food, drinks, and beer for a simple St. Patrick's Day dinner or a full-blown party. From pizzas to 31 craft beers on tap, Chelsea Tavern has everything you need to enjoy a night out.
What to eat: As far as food goes, you can't go wrong with any one of Chelsea Tavern's burgers: the classic Chelsea Cheeseburger, The Dirty Burger, and the Farmhouse Burger. Each one is cooked to perfection and made with the freshest ingredients. If you want something a little lighter, Chelsea Tavern makes great pizzas, too. They have a traditional Margherita pie, Buffalo Chicken pizza, and a variety of other specialties you're sure to love.
For more information, connect with Chelsea Tavern on Facebook.
Kelly's Logan House
As the oldest Irish bar in Delaware, Kelly's Logan House is the place to go if you want to enjoy a truly authentic holiday experience. For more than 150 years, Kelly's Logan House has served as the St. Patrick's Day hub near Wilmington. It offers a variety of iconic bar foods like fries, sandwiches, and burgers, but the best thing about this pub is their drink menu. They have wines and beers, as well as an extensive list of bourbons, scotches, and whiskeys. Kelly's Logan House also has Irish whiskeys for St. Patrick's Day.
What to eat: Grilled cheese is something you always find on a kid's menu, but the Kelly's Logan House is different. They've turned the classic lunchtime kid's meal into a flavorful dish for adults, and that's clear when you taste the Smokey Joe. It's made with chopped brisket, house BBQ, caramelized onions, and provolone cheese, all on grilled sourdough bread. It's hearty, flavorful, and a perfect pick-me-up on St. Patricks' Day or any other day of the year.
Make your St. Patrick's Day more enjoyable and delicious, and make plans to check out these top three Irish pubs near Wilmington, DE, today!