When you're enjoying a leisurely drive around Dover, Odessa, or Middletown, there's almost nothing more frustrating than having a warning light activate on your vehicle's dashboard. Almost every modern vehicle, including the Hyundai Accent, provides a warning light system to let you know when your car is experiencing a problem, and if you don't know what these lights mean, it can be very stressful.
Fortunately, learning about the various warning lights in your Hyundai Accent is easy when you have the right information at your disposal. Learn about the 2017 Hyundai Accent dashboard symbols you may see and find out how you can get professional service for your vehicle.
Don't Ignore Accent Warning Lights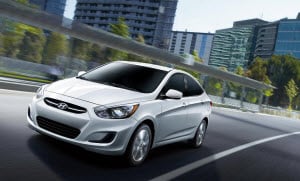 The Accent provides several warning lights that are used to indicate a malfunction with your vehicle's major systems. A few common accent warning lights include:
Battery Problems: If you see a light that looks like a car battery, it means the charging system in your Accent has malfunctioned. Turn off as many electrical systems as possible and seek service.
Automatic Braking: When your automatic braking system has run into a problem, you will see the letters "ABS" lit up on your dashboard. Although your regular brakes will still work, you will need service to restore your automatic braking.
Power Steering: When lit, the letters "EPS" indicate a major problem with the electric power steering in your Accent. This is a major problem and should be examined by a service professional as soon as possible.
Engine Coolant: If the temperature of your engine coolant becomes too high, you will see a light that looks like a thermometer superimposed on wavy lines.
Oil Pressure: A leaking oil can light indicates the oil pressure in your engine has reached damaging levels.
Brakes: A problem with your standard braking system is indicated with several lights, including the word "BRAKE," an exclamation point inside of a circle, or the letter "P" inside of a circle.
Air Bags: A light that looks like a passenger in profile with an airbag in front means your airbag system has malfunctioned and your airbags may not deploy in an accident.
Look for Indicator Lights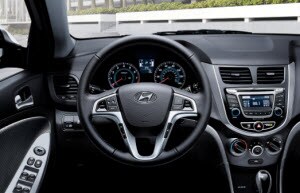 Your 2017 Hyundai Accent also includes multiple indicator lights, which are used to show your car's major features are active. These lights include:
Stability Control: When the electronic stability control in your Accent is active, you will see a light that looks like a car with wavy trademarks flowing from behind.
Cruise Control: If your cruise control is active, you will see the word "CRUISE" lit up on your dashboard. When your Accent reaches your desired speed, the word "SET" will light up.
Schedule Service for the 2017 Hyundai Accent
Now that you've read the Hyundai Accent Dashboard Symbols Guide, you can go for a drive around Middletown, Odessa, and Dover without worry. The next time you see a warning light on the dashboard of your 2017 Hyundai Accent, you need to get help from the excellent service and parts department at Winner Hyundai. Our service department can quickly and effectively fix your vehicle so that you can get back to your life.
For dedicated car maintenance and an exciting selection of new and pre-owned vehicles, your best resource is Winner Hyundai. Schedule automotive repair today!