One of the main reasons that automotive consumers in Middletown, Dover and Odessa choose compact SUVs is for their big utility. While these vehicles are certainly a great choice for any driver that needs superior performance, they also include some of the best technology features on the market, particularly the excellent 2017 Hyundai Santa Fe.
The Santa Fe is a truly excellent compact SUV, providing the modern tech features that discerning consumers want and need. Read about some of the top 2017 Hyundai Santa Fe technology features that you should consider when you want a new compact SUV.
Multi-View Camera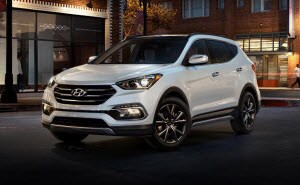 When you're looking for a new SUV, you want a model that is committed to innovation, which is a great reason to drive the Santa Fe. Inside the Santa Fe, you'll find a some of the most cutting-edge technology on the market, including a multi-camera system.
The camera system of the Santa Fe uses four cameras - grille, side mirrors and rearview - to create a 360-degree image of the outside of your vehicle. With this camera system, you can easily see obstacles in the direct vicinity of your vehicle and avoid common fender benders.
Dual Screens
In a modern vehicle, it's important that drivers have access to the best information and entertainment possible via touch screen displays. While most compact SUVs only provide one display, the 2017 Hyundai Santa Fe offers a dual screen system that makes using your vehicle easier and more rewarding than ever before.
The first display is a 7-inch LCD touchscreen. In addition to being connected to your rear view camera, this display allows you to control your vehicle's audio system, including SiriusXM Satellite Radio. The Hyundai Santa Fe also provides an available 8-inch touchscreen navigation system. With this display, you can get valuable information about where you're driving, including the current weather and traffic.
Hyundai Blue Link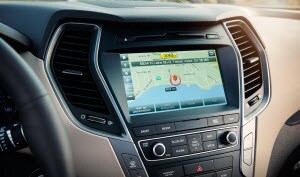 If you're like most people, then you need your smartphone with you wherever you go. Luckily, when you choose to drive the Santa Fe, you'll easily be able to link your vehicle and your phone.
For instance, the Santa Fe includes Hyundai Blue Link, a smartphone app that provides a variety of useful features. With Blue Link, you can start your car, set the air conditioning system and turn your lights on and off. If you have an Android phone, you'll be able to connect your phone to your Santa Fe seamlessly using Android Auto. Easy smartphone connectivity is one of the best reasons to drive the Hyundai Santa Fe.
Drive the 2017 Hyundai Santa Fe
If you're the type of consumer in Dover, Odessa or Middletown that values advanced technology, then the only compact SUV for you is the Hyundai Santa Fe. Thanks to a surround-view camera, multiple touchscreens and smartphone connectivity, the Santa Fe is one of the most technology rich models on the market. Learn more about the 2017 Hyundai Santa Fe by scheduling a test drive today at Winner Hyundai.
The team at Winner Hyundai is ready to help you in whatever way you need, including guiding you through our lot until you find your next car. Come see us today.