The 2018 Hyundai Accent has been drawing some rave reviews around Middletown, Odessa, and Dover thanks to its efficiency and reliability. When looking for a compact car however, it's important to note all the details of a particular model.
So, Winner Hyundai has created this 2018 Hyundai Accent Review to make sure all the necessary information, from fuel economy to safety features, are in one, convenient location.
Engine Specs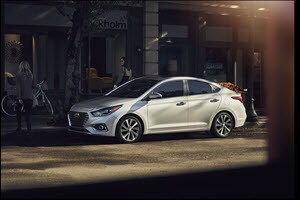 While the 2018 Hyundai Accent packs a surprising amount of punch, the fuel economy is the most compelling feature.
The Accent has a powerful 1.6-liter, 4-cylinder engine that produces 130 horsepower and 119 lb-ft of torque. With an EPA-estimated 28 city MPG and 38 highway MPG, the Accent has a nice blend of reliability and efficiency.
The handling is also a strong point, as an automatic or manual 6-speed transmission helps make every ride a smooth one.
Sophisticated Exterior Design
The exterior of the 2018 Hyundai Accent is practical and stylish, while a list of available features adds even more customization options.
A cascading grille is a new look that helps give the Accent a stylish appeal. When looking at the body, the design is upscale, and it effortlessly blends in an aerodynamic trim. As for available features, you'll find a long list of options such as projector headlights with LED daytime running lights, a power sunroof, 17 inch alloy wheels, LED taillights, and available fog lights.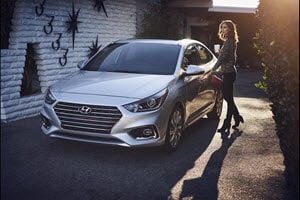 Also, the 2018 Accent is larger than previous models. The width of the car has been increased by 1.2 inches, while the length has jumped 0.6 inches. Overall, this model has a more spacious, grounded look than previous years.
Safety and Convenience
A variety of exciting features helps make the 2018 Hyundai Accent safer, and also more convenient.
For instance, Forward Collision-Avoidance Assist can help you avoid potential accidents. A forward-facing radar in the vehicle will detect other cars and send you an audible alert if you happen to get too close. If you're unable to react in time, the system will automatically apply emergency brakes.
As for convenience, the Accent offer many technology features. Available Apple CarPlay™ and Android Auto™ allow you to link your smartphones with your Hyundai Accent. After doing this, you'll never have to take your phone out of your pocket, as everything from music to apps to navigation will be available right on the touchscreen display located on the dashboard.
2018 Hyundai Accent Conclusion
While it's easy to solely focus on the efficiency and reliability of the 2018 Hyundai Accent, improved features such as Apple CarPlay™ and a creative new exterior make this model an all-around hit.
If you're looking for a new compact car around Middletown, Odessa, or Dover, take the 2018 Hyundai Accent out for a spin! Simply contact Winner Hyundai to schedule your test drive today.