Brunch is more than just a meal; it's an experience. If your usual brunch spot is getting a bit boring and redundant, change things up and indulge in new dishes and new flavors at the best brunch spots in Dover, DE, listed below.
The Brunch n' Lunch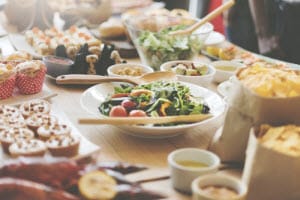 Tired of the same old Eggs Benedict and Mimosa Brunch Special? If so, head on over to The Brunch n' Lunch in Dover's downtown district.
The Brunch n' Lunch offers something for everyone to love. For breakfast food lovers, this eatery has The BnL Breakfast that comes with eggs, toast, and your choice of scrapple, bacon, sausage, or ham. Those looking to enjoy something with a bit of that lunchtime flavor will love The Piggy Mac Ride, a burger topped with smoked fried gouda, caramelized bacon, and a heap of creamy mac and cheese.
Plus, The Brunch n' Lunch puts a southern twist on brunch with dishes like Chicken and Waffles, Shrimp and Grits, and Potato Dumplings and Cream.
Check out The Brunch n' Lunch on Facebook to learn more about everything this eatery has to offer for brunch.
Grey Fox Grille & Public House
Grey Fox Grille & Public House is in a fully renovated and restored Victorian home from 1881 and provides one of the most unique dining experiences in the area.
Their Sunday Brunch menu features an eclectic selection of dishes that'll satisfy your every craving. They offer southern comfort foods like Shrimp and Grits, a dish with cheddar grits smothered in a robust, Louisiana-style shrimp gravy. You'll also find a variety of classic brunch dishes like the Grey Fox Steak and Eggs, as well as their Quiche.
If you believe brunch isn't complete without a good drink, Grey Fox Grille & Public House is definitely the place for you. They feature classic brunch drinks like Mimosas and Bloody Marys, as well as their signature Manmosa with Namaste. This includes Dogfish Head Namaste mixed with orange juice.
For more information on brunch options, connect with Grey Fox Grille & Public House on Facebook.
McGlynns Pub
McGlynns Pub may be best known for its easy going dining experience and delicious bar food, but it's also one of the best places to grab brunch in the area.
This local brunch spot is essentially paradise for breakfast food lovers. Their menu features a variety of omelettes, including their famous Seafood Omelette with crab, scallops, and shrimp topped with Hollandaise sauce.
You'll also find a selection of unique egg options like their Eggs Chesapeake. This comes with two crab cakes on an English muffin topped with poached eggs, Hollandaise sauce, and dill.
Best of all, you can make your own Bloody Mary at McGlynns Pub! You can choose from 50 different hot sauces, three dozen juices, and an array of seasonings and garnishes for your perfect brunchtime Bloody Mary.
Check out McGlynns Pub on Facebook to learn more.
Don't let brunch be boring. Spice up your meals and reserve your table at any one of the eateries listed above to experience the best brunch in Dover, DE.