Fall is almost here, and that means the season of comfy sweaters and pumpkin spice lattes is right around the corner! But there's more to this time of year than warm clothes and delicious seasonal coffees. Fall, especially in New Castle County, is all about visiting a pumpkins patch with the family.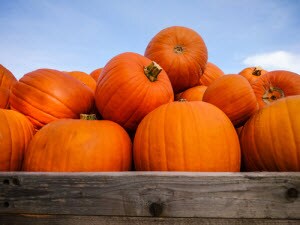 If you're looking for a great place to experience this seasonal tradition with the kids, here are our top picks for the best pumpkin picking hot spots in New Castle County. Check them out for some fall time fun!
Coleman's Christmas Tree Farm
Coleman's Christmas Tree Farm in Middletown, DE, isn't just a place to grab a fresh Christmas tree for the holidays. With tons of seasonal activities like pumpkin picking, it's one of the best places to go with the family this fall.
You can pick gourds, Indian corn, and, of course, pumpkins to really help you get into the spirit of the season. Plus, there's even free hayrides to the pumpkin patch on weekends! And if your kids feel like running around, you can let them do just that on the farm's large playground, which includes a real Indian Tipi.
For even more fall time fun, Coleman's Christmas Tree Farm features bonfires from September to November. Perfect for parties, it costs about $10 per person to book your bonfire, and that price includes a hayride, the fire, and two gallons of cider. You're even welcome to bring your own food to cook over the fire!
To learn more about this local pumpkin picking hot spot, connect with Coleman's Christmas Tree Farm on Facebook.
Ramsey's Farm
Ramsey's Farm in Wilmington, DE, is essentially paradise for anyone who loves fall activities. They have hayrides and a huge 8-acre corn maze.
They also have sizeable 10- to 12-acre pumpkin fields with more than 20,000 pumpkins, so you're sure to find the perfect one for you and your family when you stop by. And they even have pumpkin painting activities! So, if your kids want to decorate their pumpkins before they head home, this is the perfect place to do it.
To top it all off, they're famous for their fall events. Their biggest one is the Pumpkin Run 5K. It's a family-friendly event featuring great prizes, a free kid's race, and an off-road course. You can run or walk the 5K, and proceeds will help benefit local food charities and leukemia research.
For more information about their seasonal activities and events, follow Ramsey's Farm on Facebook.
Explore More Fall Time Fun in New Castle County
The fun doesn't have to stop once you find your perfect new pumpkin. To learn more about what's happening this season in New Castle County, check out our blog for your inside scoop to the latest local events and things to do in the area!