As the second half of the year approaches, many families in Wilmington, DE, are beginning to consider their options for the best spread to serve for their summer festivities. Whether you're hosting a blowout bash or an intimate gathering, you'll want the best quality food for a reasonable price.
Check out our compilation of popular catering spots in the area.
Food for Thought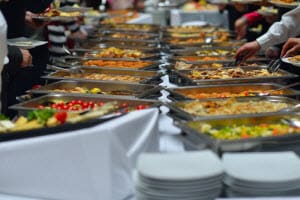 With a wide array of events under their belt, Food for Thought is a go-to for many seeking great food for an even better price.
Packages such as a Taco Bar and Fajita Bar serve up fun and gourmet fare for birthdays, bar mitzvahs, or rehearsal dinners. Food for Thought allows customers to pick up their orders or opt for delivery and set-up services for an additional charge.
For more formal events, check out their full-service benefits. These include chefs, servers, and bartenders to help keep your event run smoothly.
What to Order
Among the many selections offered by Food for Thought, the Garden Vegetable Lasagna is a stand-out. The Garlic and Herb Roasted Filet Mignon mini sandwich tray has proved to be a popular item on the business's menu, as well.
In terms of salads, Food for Thought's signature is the Pear and Candied Walnut Salad tossed with crumbled bleu cheese and a Vidalia onion vinaigrette.
Check out their Facebook page for more information on upcoming specials!
The Greenery Caterers
Since 1978, The Greenery Caterers has been supplying weddings, businesses, and private parties with an extensive menu of appetizers, main courses, and desserts.
Anyone who's considering getting married in the near future will be excited to see the Greenery Caterers' selections. As a preferred caterer for wedding venues in the Wilmington area, they offer entrées from any cuisine imaginable. Both sit-down and buffet styles are available, along with brunch, lunch, and dinner options.
What to Order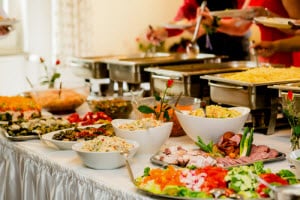 The Roast Filet Mignon Madagascar has been a menu highlight for customers. Covered in a creamy peppercorn sauce, this entrée imparts both luxury and comfort. And anyone who enjoys fresh Delaware crab will be pleased to see the Greenery's Renowned Lump Crab Cake dish.
Take a look at their Facebook for reviews and directions!
Moveable Feast
If you're looking for a caterer with corporate presence, Moveable Feast is the place for you. As a top pick for anyone looking for a vendor for a business meeting, their menu includes several upscale items and vegetarian cuisine.
Moveable Feast is also one of the few catering enterprises accompanied by an in-house café for anyone looking for a quick bite to eat.
They also offer a 10% discount to all DuPont employees; if you happen to be a Moveable Feast enthusiast, head over to the café and pick up some lunch!
What to Order
Moveable Feast's creative menu presents tons of picks for customers of their catering or café. Café visitors can take a bite of their Roller Skate veggie burger with avocado, tomato, and chipotle mayo on a brioche bun.
Their catering menu provides choices for the health-conscious with their Salmon Salad with almonds, oranges, red onion, and tomato. On top of that, they have an array of pasta dishes that can satisfy any Italian cuisine lover.
Head to their Facebook page for more information!