Even with a safe, reliable vehicle like the 2018 Hyundai Sonata, there may come a time when a dashboard symbol illuminates, which can cause concern about what's happening under the hood.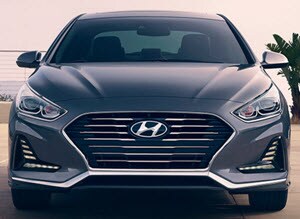 Like other Hyundai vehicles, your Sonata provides dashboard symbols and indicator lights to keep you aware of how your vehicle is functioning, as well as to let you know when it may be time to visit a service center to get things checked out.
At Winner Hyundai, we understand the stress this can cause, so we've compiled a brief guide to the 2018 Hyundai Sonata dashboard symbols for you to learn more about your vehicle's health.
Dashboard Symbols
Though some symbols may be self-explanatory, many dashboard symbols may not be as obvious.
Here are some common symbols and their respective systems:
●       Braking system: This symbol is ABS' inside of a circle, and monitors your anti-lock braking system. The word BRAKE indicates that your parking brake is active.
●       Oil pressure: This symbol is an oil lamp and monitors your oil pressure.
●       Battery: This symbol is a battery with a + and - sign, and monitors your battery charge.
●       Airbag system: This symbol is a passenger with a circle in front, and monitors your airbag and seatbelt systems.
●       Cruise control: This symbol is the word CRUISE. It indicates the system is active. The word SET indicates that you've reached your desired cruising speed.
●       ESC: This is a symbol that looks like a car with wavy lines beneath it. It monitors your electronic stability system. The same symbol with the word OFF beneath it means that the system is not currently active.
Indicator and Warning Lights

In addition to symbols, your 2018 Hyundai Sonata dashboard is equipped with color-coded indicator and warning lights, all of which allow you to quickly and easily discern any issues your vehicle may be experiencing. Learning the lights colors and behaviors is crucial to determining the condition and safety of your vehicle.
Indicator lights are white, green or blue and are there to tell you that a specific system is active or functioning. When you start your vehicle, several of these lights will illuminate briefly, turning off after the car is in motion, while others are designed to stay illuminated during the whole drive, indicating that the system is active. Examples of these lights include headlights, high beams, directional indicators and cruise control, among others.
Warning and alert lights on your dashboard are there to warn you of a potentially hazardous system malfunction or failure. These lights are red or yellow, and should you see one, it's vital that you take your vehicle to a service center to be checked out. Examples of such symbols include oil pressure, braking system, airbags, check engine and battery.
Schedule your Service Appointment with Winner Hyundai
Your dashboard symbols and lights are an important aspect of vehicle ownership, so it's crucial that you understand their behavior and meaning. Hopefully, this guide helped you learn more about your 2018 Hyundai Sonata dashboard symbols and gave you some peace of mind.
If you're in Middletown, Odessa or Dover and have concerns about your dashboard symbols or warning lights, don't hesitate to visit us at Winner Hyundai to speak with one of our experienced service technicians. While you're here, schedule your service appointment for your 2018 Hyundai Sonata. Contact us today!