During the first few weeks of driving your new car, you likely aren't thinking about getting it serviced. However, most vehicles are due for their first maintenance appointment much sooner than most drivers believe.
To keep your car in the best shape possible for those long drives through Middletown, Odessa, and Dover, reviewing the manufacturer's maintenance schedule can be extremely helpful. That's why the expert mechanics at Winner Hyundai are here to walk you through all of your appointment from your first oil change to your two-year inspection.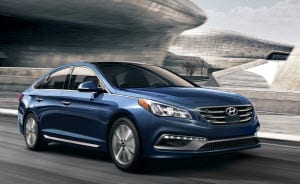 This ensures that your 2017 Hyundai Sonata runs efficiently for as long as possible.
First Maintenance Visit - 3,000 Miles
The first appointment every car owner will have is the 3,000-mile assessment. Many car owners forget that the first oil change is important in maintaining the vehicle's longevity. Oil changes preserve the engine lubrication and help remove wear and sludge.
Along with an oil change, mechanics will perform a multi-point quality inspection, check tire pressure, replace the filter, and check out the fluid levels.
7,500-Mile Maintenance
The second maintenance appointment scheduled for the 2017 Hyundai Sonata is the 7,500-mile checkup. The inspections performed here are very similar to the 3,000-mile checkup, but will include a few additional tests.
Mechanics will inspect the air cleaner filter as well as the vacuum hose. The tires will be checked for wear and a tire rotation will be executed too. Again, these items will need to be reviewed every 7,500 miles to verify that the car is running as it should.
15,000-Mile Inspection
Sonata drivers can prepare themselves for their first extensive service at 15,000 miles. This appointment typically coincides with the 12-month marker of owning the car.
Many of these tests will include similar tasks to the 3,000- and 7,500-mile appointments plus a few extra inspections. This includes air conditioning testing, an exhaust pipe and muffler checkup, brake pad analysis, and a suspension review.
As with the previous maintenance appointments, this should be repeated every 15,000 miles.
30,000-Mile Inspection
The 30,000-mile inspection is, by far, the most comprehensive appointment. In addition to the maintenance items listed above, a few items in your car will also need to be replaced. The same routine inspections will also be completed to safeguard against any problems with your Sonata, such as brake fluid, exhaust pipe, fuel lines, and suspension checkups.
During this maintenance check, the air cleaner filter and climate control filter will be replaced along with the engine oil and filter. This appointment should be scheduled every 30,000 miles.
Schedule a Maintenance Check for your Hyundai Sonata
For drivers in the Middletown, Odessa, and Dover area, Winner Hyundai is the place to go for all routine maintenance appointments. Our service center is supplied with all the tools necessary for our mechanics to keep your 2017 Hyundai Sonata running well.
If you are in need of a service appointment for your 2017 Hyundai Sonata, give us a call or schedule it online today!