For years, the Hyundai brand has been synonymous with quality and ingenuity. Each year, this car brand puts out some of the best looking vehicles on the market. The 2017 Hyundai Tucson is no exception due to the craftsmanship and technologically advanced features it has to offer.
Most people are looking for a vehicle that can keep up with their fast-paced lifestyle, especially our neighbors in Middletown, Odessa, and Dover. To understand how connected and phenomenal the Tucson's technology is, we at Winner Hyundai have compiled this 2017 Hyundai Tucson technology review to showcase this vehicle's stunning array of tech.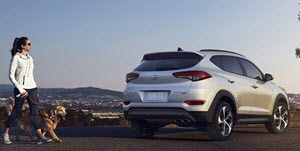 Hyundai Tucson: Apple CarPlay™ and Android Auto™
Being able to operate a phone hands-free while behind the wheel is something most people view as essential. The 2017 Hyundai Tucson supports both Apple CarPlay™ and Android Auto™. With these useful apps, drivers are able to listen to the music on their phones, hear phone calls through the speakers of their vehicle, and send text messages. This feature not only keeps you  more connected, but more safe as well-no need to struggle reaching your phone to answer that call or skip a song anymore.
Hyundai Tucson Technology Features: Rearview Camera
Having a rearview camera is a fantastic way for a driver to avoid being in an accident due to blind spots. The 2017 Hyundai Tucson has a five-inch color display that allows drivers to see behind them with ease. Now, you can glide out of tight parking spots with ease and-maybe-master parallel parking, even in packed and busy cities. This helpful screen can also be used to control the radio and operate the navigational system.
Hyundai Tucson Technology Features: Smart Liftgate
The proximity key this car comes equipped with can be used to work the Smart Liftgate. As soon as the sensor on this liftgate senses the proximity key is nearby, it'll automatically open. This means the car owner will be able to put their armload of groceries, luggage, or sports equipment into the vehicle without having to manually open the liftgate.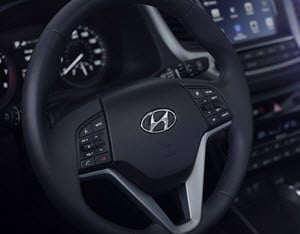 Not only do the 2017 Hyundai Tucson technology features help promote safety, they also provide the owner with the convenience they need and deserve.
Learn More!
When looking for a vehicle in the Middletown, Odessa, or Dover area, a car buyer will need to find the right car lot to work with. The best way to get a feel for what the 2017 Hyundai Tucson has to offer is by taking the time to schedule a test drive with a reputable dealership. The right dealership will have no problem getting a prospective buyer behind the wheel of one of the fine machines-and that dealership is Winner Hyundai.
For more information or to schedule a test drive, please contact us today at Winner Hyundai. We look forward to helping you find your next car!