Maintenance schedules are helpful, but the dashboard lights in your 2017 Hyundai Tucson are the most useful tool you can use to know when your car needs service. Each dashboard light indicates a different performance issue for your vehicle. To help you understand what each light is trying to say, check out our in-depth 2017 Hyundai Tucson dashboard symbols guide below.
Hyundai Tucson Warning Lights
All-Wheel Drive Warning Light: The symbol for all-wheel drive (AWD) looks like the drivetrain system of your Tucson and will light up whenever there's a problem with your AWD system.
Brake Warning Light: If your car is running low on brake fluid, you may see the word BRAKE shining on your dashboard. This light also activates when you apply the parking brake.
Charging System Warning Light: This light looks like a car battery and tells you there's something wrong with your Tucson's alternator, charging system, or battery.
Engine Oil Pressure Warning Light: If your engine has low oil pressure, a light shaped like an oil can will appear on your dashboard.
Low Tire Pressure Warning Light: The symbol for this light is a tire with an exclamation point, and it lets you know when your tires are underinflated. The light should go away once you fill your tires. If it's still there, it could mean that something is wrong with the tire pressure monitoring system.
Headlight Warning Light: If one of your headlights isn't working correctly, you'll see a symbol on your dashboard that resembles a light bulb with an exclamation point in the middle.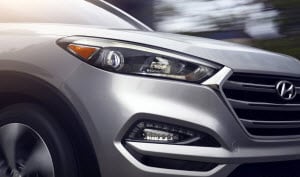 These Hyundai Tucson dashboard lights are usually the first sign of trouble for certain parts under the hood. With that said, it's important to schedule a service appointment with a certified Hyundai dealer near Odessa, Dover, and Middletown to prevent additional damage and severe performance problems.
Hyundai Tucson Dashboard Symbols
Downhill Brake Control Indicator Light: A light that looks like a car going down a hill is the Downhill Brake Control indicator light. This means that the system is working to maintain a safe speed as your car drives down a decline.
ECO and Sport Mode Indicators: If you see the words ECO or SPORT on your dashboard, it means that ECO mode or Sport mode has been activated and is enhancing the Tucson's performance.
Lane Departure Warning Indicator Light: This light looks like a car driving between two lanes and lets you know when the Lane Departure Warning system is in use.
Learn More Today!
These are just some of the Hyundai Tucson dashboard symbols you will notice. To learn more about these lights and all the others you could see while driving through Odessa, Middletown, and Dover, contact Winner Hyundai today.
If you see any of these symbols shining on your dashboard, schedule a service appointment immediately to prevent performance issues or severe vehicle damage.