If you're the type of consumer who wants to drive around Odessa, Middletown and Dover in the best vehicle possible, then you need to think about driving a high-quality sedan like the Hyundai Sonata. One of the top vehicles you'll find in any class, the Sonata is loaded with great features that are designed for thrills.
Whether you're interested in exciting performance or superior comfort, the Sonata is the sedan that provides it all, making it a vehicle that every consumer should consider driving. Read our 2018 Hyundai Sonata review to learn more about the most enticing features of this new model and find out why you need to take it for a spin today!
An All New Look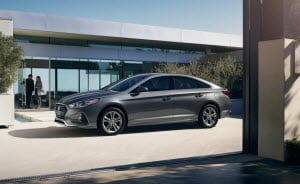 Say goodbye to sweet and hello to swagger with the all-new 2018 Hyundai Sonata. The traditional exterior look of the Hyundai Sonata has been completely revamped for its newest version, with a cascading grille boldly going where no Sonata has gone before. Its corner intakes, larger LED headlamps, and hood bulges mean that when you look at the new Sonata head-on, you're looking at a lean, mean driving machine.
With so much going on up front, Hyundai knows that it's important to keep the balance by simplifying the rear of the vehicle. Moving the license plate down to the bumper makes for a smoother trunk lid. Plus, large SONATA lettering adds a bold, stylish finish and lets everyone you pass by know what kind of car you're sporting.
2018 Hyundai Sonata Features
Looks are important in a vehicle, but they certainly aren't everything. Along with its refreshing new exterior look, the 2018 Hyundai Sonata boasts a wide range of new and improved features to enhance your safety and convenience while on the road. Blind spot detection, Rear Cross-Traffic Alert, and lane change assist ensures your Sonata is looking out for you where you need it most.
The Integrated Memory System keeps you comfortable as it remembers what seat and mirror positions you prefer the most, while the heated and ventilated front seats keep you feeling good no matter what season it is. Loading up the trunk has been made as convenient as possible since your Sonata utilizes its hands-free smart trunk that opens with just a kick of your foot. Finally, connect to your car like never before with Apple CarPlay and Android Auto, as well as with wireless cell phone charging.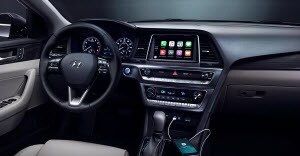 Unlike other sedans you could drive, the Sonata puts just as much emphasis on rear seat passengers as it does those in the front. In the latest version of this excellent vehicle, both front and second row passengers will have access to USB charging ports, meaning everyone can keep their smartphones, tablets or gaming devices charged on those long road trips.
Another one of the best integrated features you'll find with the Sonata is the Blue Link app that is complimentary for three years. This app puts control of your vehicle right at your fingertips, allowing you to remotely lock and unlock your vehicle from a distance. You can also remotely start your vehicle and set your temperature, so your Sonata is ready for a drive whenever you are. Blue Link will also provide monthly vehicle health reports so that you'll always knowing what's going on under the hood of your sedan.
Honda Sonata Trim Levels
There are seven 2018 Hyundai Sonata trim levels, with each trim level building on the features of the others. This allows you to select a vehicle that caters perfectly to your personal wants and needs, including the kind of power you want in your Sonata.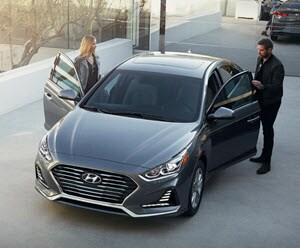 When you look under the hood of the SE, SEL, Limited or the Sport 2.4, you'll find a 2.4L GDI four-cylinder engine powering your car. With this impressive engine, you'll have access to 185 horsepower, giving you every bit of power you need and deserve.
If you're looking at the Sport 2.0T or the Limited 2.0T, you'll see a 2.0L Turbo GDI engine, which produces an outstanding 245 horsepower, with an eight-speed automatic transmission. The Eco alone sports a 1.6L Turbo GDI four-cylinder engine that also features a seven-speed EcoShift Dual Clutch transmission.
Consumers that are looking for extreme fuel efficiency out of their next sedan will love the Sonata. Depending on which version of this vehicle you drive, you'll be getting between an EPA-Estimated 26 and 29 MPG combined, meaning you won't have to worry about constant stops for gas on your next trip.
The Best Warranty in America
When you're purchasing a new vehicle, you want to know that your investment will be protected for years to come, which is why you need to examine the warranty that comes with your vehicle. While virtually every sedan promises a dependable warranty, none provides you with the peace of mind that you'll receive by driving the latest Hyundai Sonata.
If you choose the Sonata as your next vehicle, you'll be protected in several ways. First, the Sonata features a 5-Year/60,000-Mile new vehicle limited warranty. Second, there is a 10-Year/100,000-mile powertrain limited warranty that can help keep your vehicle on the road. Finally, your Sonata comes with 5-Year/Unlimited Mile 24-hour roadside assistance so that you can get help whenever you need.
Drive the 2018 Hyundai Sonata
If you're interested in purchasing a new car and are looking for the best sedan on the market today, then your clear choice is the new Hyundai Sonata. Whatever feature you're looking for in your next vehicle, the Hyundai provides it, including dependable performance, integrated technology and a reliable warranty. Take the 2018 Hyundai Sonata for a test drive today by visiting Winner Hyundai.
Winner Hyundai is your best dealership choice when you're looking for an exciting selection of new and pre-owned vehicles. We serve car shoppers from Middletown, Dover and Odessa, and would be glad to help you find a new vehicle, whether it's the Sonata or one of our other thrilling models. Contact us today!