The 2017 Hyundai Santa Fe may be equipped with an array of safety features, but its dashboard lights are still its most helpful amenities. The dashboard lights in the 2017 Hyundai Santa Fe are specially designed to help you understand how your vehicle is performing and if it needs professional maintenance and repairs.
These lights can activate any time you're driving throughout Odessa, Middletown, and Dover. Check out this 2017 Hyundai Santa Fe dashboard symbols guide provided by Winner Hyundai to help you understand what each symbol indicates so you can provide the professional care your vehicle needs.
Hyundai Santa Fe Warning Lights
Malfunction Indicator Lamp: This dashboard light looks like an engine block. When it's illuminated, it means there's a problem with the engine's emissions system.
Charging System Warning Light: If you see a symbol that looks like a car battery in your Santa Fe, there's something wrong with your charging system, battery, or alternator.
Engine Oil Pressure Warning Light: The engine oil pressure warning light is shaped like an oil can. When it's on, it means there's not enough motor oil in the engine.
Engine Coolant Temperature Warning Light: A symbol that looks like a thermometer bobbing in the water is the engine coolant temperature warning light. It indicates that the coolant in your vehicle is dangerously overheating.
Low Tire Pressure Warning Light: When one of your tires is underinflated, a symbol that looks like the side of a tire with an exclamation point will appear on your dashboard.
AWD Warning Light: If you see a symbol shaped like your vehicle's drivetrain system on your dashboard, there could be an issue with the all-wheel drive system.
Low Fuel Level Warning: When your Santa Fe is running low on gas, you'll see something that looks like a fuel pump on your dashboard.
These symbols are some of the most common dashboard warning lights you'll see when you're behind the wheel of your 2017 Hyundai Santa Fe. The second you notice any of these lights, you'll want to schedule a service appointment at a certified Hyundai service center. Failure to do so could lead to performance problems, automotive breakdowns, and expensive repairs.
Hyundai Santa Fe Dsahboard Symbols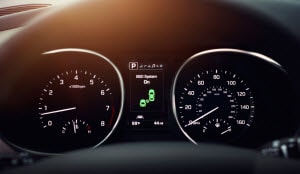 Not all Hyundai Santa Fe dashboard lights mean performance problems. Some are designed to let you know when features are in use. Here are some of the common Santa Fe dashboard indicator lights you could see while traveling through Odessa, Middletown, and Dover.
Downhill Brake Control Indicator: This indicator looks like an SUV traveling down a hill. When active, it means that the Downhill Brake Control is working to keep your car at a safe speed.
Sport Mode Indicator: If you see SPORT shining on your dashboard, it means that SPORT mode has been activated.
Automatic Emergency Braking Indicator: The Automatic Emergency Braking indicator light looks like a vehicle that's about to crash into the car ahead. This lets you know that the system has automatically applied the brakes to help prevent a frontal collision.
Smart High Beam Indicator: The Smart High Beam indicator light is shaped like a headlight with the word AUTO beneath it. This tells you that the Smart High Beams are activated to ensure optimum visibility.
Learn More Today!
These are just a few of the common Hyundai Santa Fe dashboard symbols. To learn more about these and any other lights within your SUV, contact Winner Hyundai in Dover and schedule your service appointment today.