Hyundai dashboard symbols may seem primitive, but they're just as effective as some of the most intelligent safety technologies in the automotive industry. Designed to help prevent severe and costly vehicle damages, dashboard warning lights will let you know when your car needs a repair, but they're only effective if you know what each light means.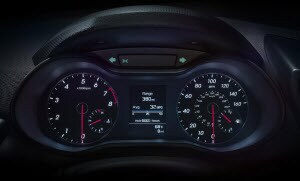 At Winner Hyundai, we provide drivers in Odessa, Middletown, and Dover with the resources needed to keep their car running at its best for as long as possible. That's why we've created these detailed Hyundai dashboard symbol guides.
2018 Hyundai Elantra Light Guide 
2018 Hyundai Sonata Dashboard Symbols
2017 Hyundai Accent Light Guide
2017 Hyundai Santa Fe Light Guide
2017 Hyundai Santa Fe Sport Light Guide
2017 Hyundai Tucson Light Guide
Hyundai Dashboard Symbols
Our Hyundai dashboard light guides have everything you need to know about each light you could see in your Hyundai. When you come across an active dashboard light in your Hyundai, just read the specific guide for your car. With these guides, you'll understand what's wrong with your vehicle and what you need to do to deactivate the light on your dashboard.
Here are a few things you can learn when you read any one of our Hyundai dashboard light guides.
Dashboard warning lights: In our Hyundai dashboard light guides, you'll find a list of every light you can see when you're behind the wheel of your Hyundai. Our guides will also give you a rundown of what causes each light to activate and what you need to do to turn them off.
 Consequences: It's never a good idea to ignore your dashboard warning lights. That's why our Hyundai light guides come with tips that help prevent excessive damage and high-cost repairs that usually come when you ignore active dashboard lights for too long.
Warning vs. indicator lights: Contrary to popular belief, there's a difference between dashboard warning lights and dashboard indicator lights. When you read any one of our Hyundai warning light guides, you'll be able to tell the differences between these two types of lights to give you a better idea of when your Hyundai needs a service appointment.
Choose a Hyundai Dashboard Symbol Guide to Get Started!
On this page, you'll find a helpful dashboard light guide for each Hyundai model at Winner Hyundai in Dover, DE. To learn more about the lights you can see for your car, simply read the guide for your specific Hyundai model.
If you have any questions, contact us or schedule a service appointment at Winner Hyundai today!